At Drift at the Forum, we understand the importance of our residents' careers. Balancing career and convenience can be simple when you choose to Live at Drift. Our apartment community's location in the rapidly developing west side of Fort Myers is near some of the top employers in the area. When you sign a lease at Drift, your apartment home will be walkable to several nearby employers. Located directly off Colonial Blvd, our community has direct access to I-75 and FL-82 making it ideally situated for an easy commute to Downtown Fort Myers, the airport, and the rest of southern Florida.

For your convenience, our team has gathered information about the leading employers close to Drift at the Forum to give our residents the best career options Florida has to offer. If you work for any of these employers, you will receive our Preferred Employer Program benefits. Apply today and be one of the first to call Drift at the Forum home!

Lee County Government

City of Cape Coral

US Postal Service

Lee Health

Founded in 1916 and now employs more than 14,000 people, Lee Health has over 30 practice locations throughout Southwest Florida which includes more than 1,480 physicians. Lee Health is made up of 4 acute care hospitals and 2 specialty hospitals:
Cape Coral Hospital

Gulf Coast Medical Center

HealthPark Medical Center

Lee Memorial Hospital

Rehabilitation Hospital

HealthPark Care Center
Lee County School System (LCSS)

"The Lee County School System has a drive for excellence and a passion for distinction in providing challenging experiences for all students". We value educators and administrators in our county and would like to reward them for all their hard work and dedication. All employees of LCSS will have the opportunity to participate in our preferred employers program at the time of application.
The following schools are assigned to those who choose to call Drift at the Forum home:
Treeline Elementary School

Cypress Middle School

Fort Myers High School
Lee County Sheriff's Law Enforcement
For those who protect and serve our county, we would like to offer a token of our appreciation. Employees of Lee County Sheriff's Law Enforcement can take advantage of our preferred employer benefits at the time of application.

Select grocery stores:
The employee-owned supermarket chain is a short 8-minute commute from Drift. Publix offers an array of benefits to help associates obtain health care, further their education, save for retirement, and enjoy discounts on numerous products and services.

​ An 8-minute drive from Drift at the Forum, Wal-Mart is investing in its associates by offering competitive pay, advanced training through Wal-Mart Academies, career development through Pathway's training program and, most of all, a chance to move up in the company.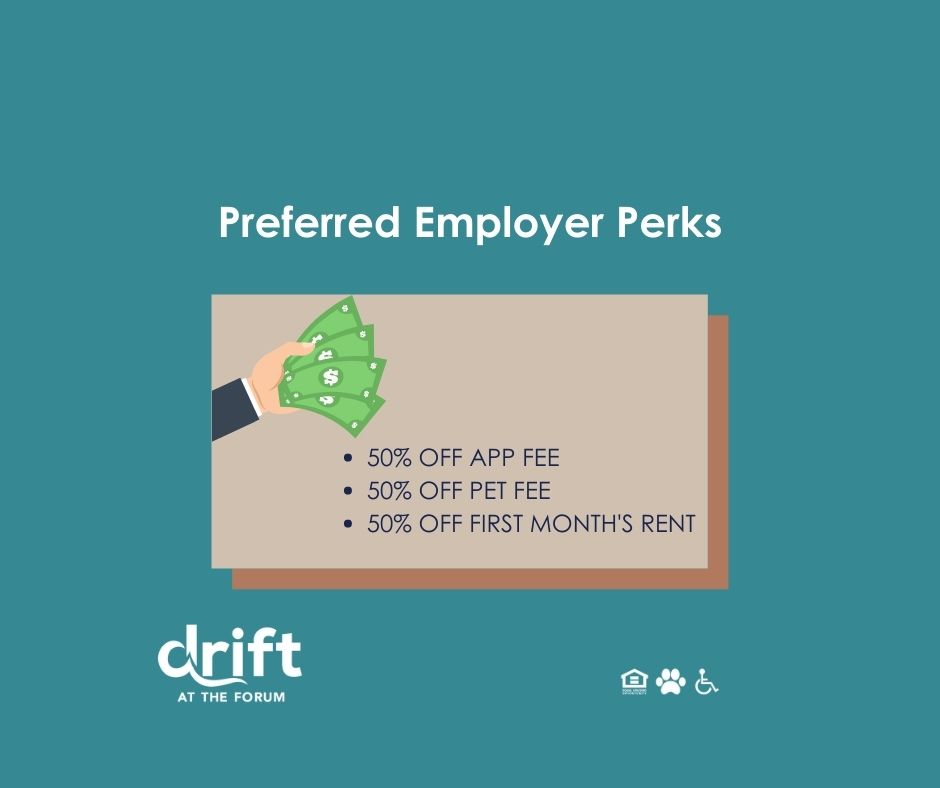 We value our relationships with the local community and will continue cultivating beneficial partnerships for our residents. Drift at the Forum sets itself apart from other apartment communities by listening to our residents and consistently providing quality service as well as excellent living options with state-of-the-art amenities. Welcome home to Drift at the Forum!